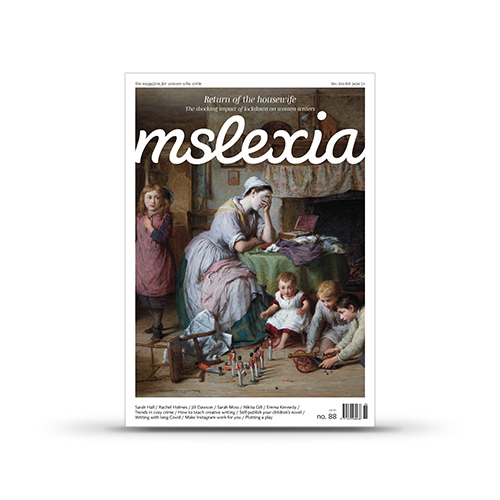 Mslexia Magazine - Issue 88
Full of creative inspiration, practical advice and original poetry, fiction and memoir
Featuring Sarah Hall, Melissa Benn, Nikita Gill, Sarah Moss, Rachel Holmes, Jill Dawson, Stacey Halls, Emma Kennedy and many more
In this issue
Return of the housewife Debbie Taylor looks at the impact of the pandemic on women's writing
A spoonful of sugar Jill Dawson challenges the usual teaching model for creative writing
The knowledge Julie Vuong talks to specialist agents and editors about trends in cosy crime
Cat woman What can a 1970s filmmaker can teach a 2020s historical novelist about plotting? Stacy Halls explains
Interview Melissa Benn talks to cultural historian Rachel Holmes about women's rebellion, resistance and continuity in political thinking
Insight Novelist Sarah Moss explains why she has written and abandoned four novels – and why this as a good thing
Bottling it Award-winning YA author Laura Steven on how she made sure her new baby wouldn't undermine her writing
Playmaking Acclaimed playwright and tutor Margaret Wilkinson spells out how to go about plotting a play
DIY bestsellers Self-publishing guru Debbie Young on publishing and selling your own novels for children
Prizewinning fiction Sarah Hall and Ingrid Jendrzejewski introduce the winners of the 2020 Mslexia Short Story and Flash Fiction Competitions. Read the winning entries along with insights into our judges' thoughts about the submissions.
Plus...
What's new on Instagram, poetry and flash fiction challenges, writing exercises, synopsis surgery, poetry and short story reviews, memoirs for performance, pitching to pet magazines, writing as therapy
And...
Our unique listing of over 120 writing competitions and submission opportunities, plus lots of online workshops, courses and events
Sarah Hall, Melissa Benn, Nikita Gill, Sarah Moss, Rachel Holmes, Jill Dawson, Stacey Halls, Emma Kennedy and many more
Print copies are available to buy from our Shop by clicking one of the options below. Alternatively, you can browse our list of 38 boutique stockists to check whether there is a retail outlet near you.
Digital copies are available from Exact Editions, who also manage our digital subscriptions. Clicking on the button below will take you to the Mslexia section of the Exact Editions website, where you will be offered the following two options:
£4.99 Quarterly Subscription (entitles you to the current magazine only)
£4.99 Quarterly Recurring Subscription (entitles you to the current magazine plus all future magazines until you cancel)

The magazine for women who write
We firmly believe that you shouldn't leave your writing career to chance, and there's no faster way to level up your craft than with a subscription to our quarterly magazine.
Your passport to a supportive, dynamic tribe of creative women writers.
Opportunity to submit your work and get published to kick start your career.
Professional advice from literary agents and editors a click away.
Spark creativity and silence the practical and psychological obstacles.
Over 50 writing competitions in each issue.
Over 60 magazines and publishers on the lookout for fresh voices.
Subscribe