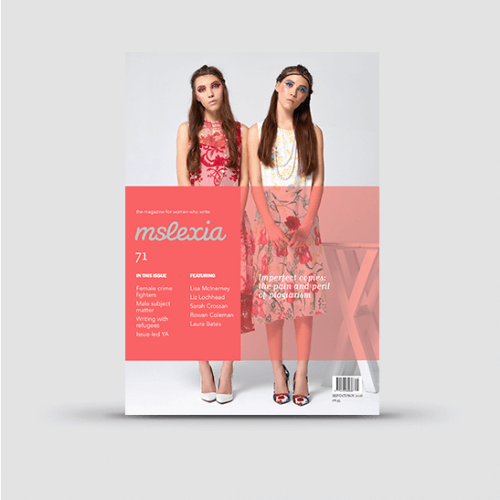 Mslexia Magazine - Issue 71
In this issue:
Female crime fighters
Male subject matter
Writing with refugees
Featured writers:
Lisa McInerney
Liz Lochhead
Sarah Crossan
Issue 71 is stuffed to bursting with writerly challenges – from writing a novel entirely on Twitter, experimenting with "masculine themes", to inventing your own literary award, or stereotype-busting female crime fighter. Alongside editor Debbie Taylor's agenda on the pains and perils of plagiarism, you can find:
Liz Lochhead introduces the winners of our Women's Poetry Competition 2016
Interview: Biographer Paula Byrne talks to Caroline Sanderson
Fair cops: Laura Wilson on female crimefighting archetypes
YA: Laura Steven on writing real-world issues
The discomfort zone: Jemma Wayne on writing about 'masculine' topics

The magazine for women who write
We firmly believe that you shouldn't leave your writing career to chance, and there's no faster way to level up your craft than with a subscription to our quarterly magazine.
Your passport to a supportive, dynamic tribe of creative women writers.
Opportunity to submit your work and get published to kick start your career.
Professional advice from literary agents and editors a click away.
Spark creativity and silence the practical and psychological obstacles.
Over 50 writing competitions in each issue.
Over 60 magazines and publishers on the lookout for fresh voices.
Subscribe