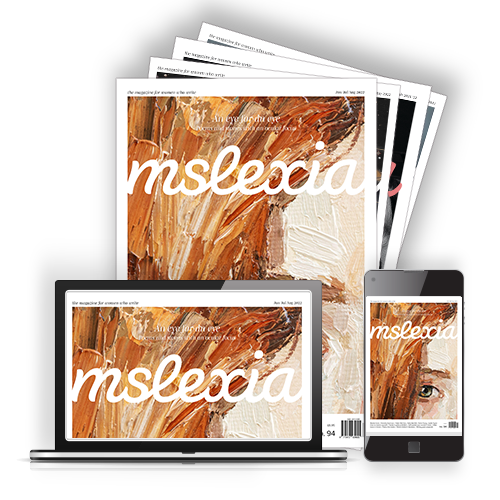 Welcome to the magazine for women who write
Read by top authors and absolute beginners, Mslexia is a quarterly masterclass in the business and psychology of writing.
What's new in creativity and publishing, expert advice and inspiration, debate and opinion, extraordinary poetry and prose, plus unique directory of 60 competitions with closing dates pending and 60 editors and publishers on the lookout for fresh talent – all packaged up in a collectable 84-page perfect-bound magazine.
The majority of our readers subscribe to the magazine, to be sure of nabbing a copy in time to follow up all those opportunities before their deadlines, but Mslexia is also available in 38 indie bookshops and boutique stockists.
We redesign the magazine every four years to keep it up-to-date and relevant to your evolving passions and needs. Here are some of the regular features in the latest reincarnation:
The Knowledge Publishing expert Julie Vuong talks to top agents and editors about what's happening in a bestselling fiction genre and how to apply it in your own work.
The Story of My Life Acclaimed memoirist and literary agent Catherine Cho deconstructs a submitted memoir synopsis to discover the key narrative at its heart.
Crafting a Cure Writing therapy pioneer Victoria Field's new series explains how to use your creative writing to explore your psychology.
Emerging Writer and production editor Maxine Davies discusses how to emerge as a writer
DIY Bestsellers Self-publishing guru Debbie Young's practical series looking at the most successful genres in this sector, at what to do (and not do) to connect with readers.