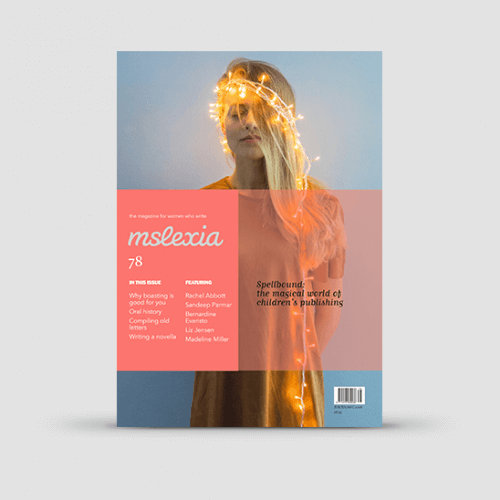 Mslexia Magazine - Issue 78
In this issue
What's happening in children's publishing
Showcase: Liz Jensen selects stories and poems on the theme of 'weather'
Meeting the Mslexia Novel Competition shortlist
Featured Writers
Rachel Abbott
Sandeep Parmar
Bernardine Evaristo
Issue 78 of Mslexia puts focus on achievement – Tania Hershman calls for more celebration amongst women writers, while S K Perry meets the shortlistees of the Mslexia Novel Competition. Elsewhere in the issue:
What works for Sandeep Parmar
Alison Moore sings the praises of the novella
Danuta Kean interviews Rachel Abbott
Bernadine Evaristo's monologue, 'The Unthinkable'
Sam Baker's bedtime reading

The magazine for women who write
We firmly believe that you shouldn't leave your writing career to chance, and there's no faster way to level up your craft than with a subscription to our quarterly magazine.
Your passport to a supportive, dynamic tribe of creative women writers.
Opportunity to submit your work and get published to kick start your career.
Professional advice from literary agents and editors a click away.
Spark creativity and silence the practical and psychological obstacles.
Over 50 writing competitions in each issue.
Over 60 magazines and publishers on the lookout for fresh voices.
Subscribe