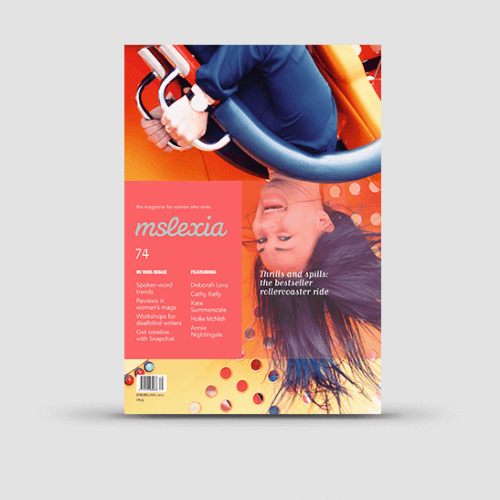 Mslexia Magazine - Issue 74
In this issue
Debbie Taylor investigates the formula for a blockbuster novel
Getting started in musical theatre
Our 2017 Short Story and Flash Fiction Competition winners
Featured Writers
Deborah Levy
Holly McNish
Annie Nightingale
Issue 74 of Mslexia introduces the 2017 winners of our Short Story and Flash Fiction Competitions, alongside a whole host of tips and tricks on plotting, pitching and submitting. Plus:
Career: Fanny Blake on submitting your work to women's magazines
Interview: Kate Summerscale talks to Caroline Sanderson
What works for Kiran Millwood Hargrave
Craft: Lucy English on the latest trends in spoken word

The magazine for women who write
We firmly believe that you shouldn't leave your writing career to chance, and there's no faster way to level up your craft than with a subscription to our quarterly magazine.
Your passport to a supportive, dynamic tribe of creative women writers.
Opportunity to submit your work and get published to kick start your career.
Professional advice from literary agents and editors a click away.
Spark creativity and silence the practical and psychological obstacles.
Over 50 writing competitions in each issue.
Over 60 magazines and publishers on the lookout for fresh voices.
Subscribe