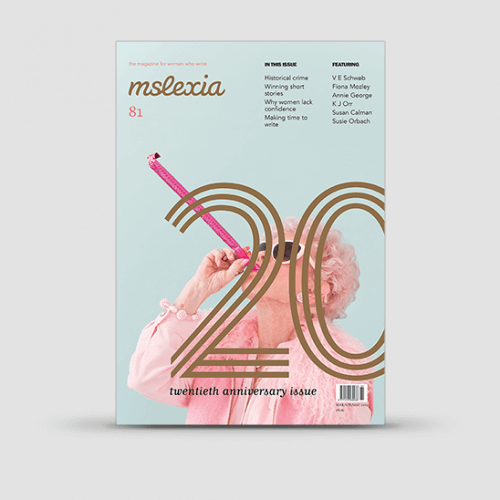 Mslexia Magazine - Issue 81
Agenda: Adding a new word to the language: on the twentieth anniversary of Mslexia's launch, Debbie Taylor takes a walk down memory lane.
PLUS: Historical crime • Winning short stories • Why women lack confidence • Making time to write.
Featuring
V E Schwab • Fiona Mozley • Annie Georgie • K J Orr • Susan Calman • Susie Orbach
Agenda
Adding a new word to the language: Debbie Taylor takes a walk down memory lane
How dare you? Susie Orbach explains
2018 Poetry Pamphlet Competition winner
FORUM
What you're saying about… writing goals, attitudes to indies, and grammar gripes
Humblebrags
Your life sentences
For the love of it: fan site blogging with Glenda Young
Sarah Gonnet's view of reviewing
Noticeboard
SHOWCASE
Our judging panel debates the winners of our Short Story Competition
Meg Pokrass on the winners of our Flash Fiction Competition
CRAFT
Creativity news
Writing exercises
What works for Lisa Appignanesi
Poetry challenge: elegy, selected by Linda France
Confidence trick: Angela Readman on doubting her success as a writer
Fiona Mozley's Achilles' heel
Flash challenge: Sarah Nash
First page surgery with Angela Clarke
INTERVIEW
V E Schwab talks to Laura Steven
OFF THE PAGE
Script news
Play list with Annie George
Podding along: narrative non-fiction podcasts with Alice Slater
Songbirds: pitch with Susie McComb
Monologue: 'Backbone' by K J Orr
CAREER
Publishing news
Crystal ball
The steeper climb: Kerry Hudson on being given a fair reading
Pitch surgery with Charlotte Robertson
Pitch calendar
Self-help book test drive with Meg Clothier
The tests of time: Aki Schilz asks how women fit writing into their busy lives
DOORS OPEN
Open for submissions
Insight: pitch prospects
Three of a kind: landscapes
Insight: script submissions to the Bruntwood Prize for Playwriting
Open for entries: competitions and awards
Insight: agent Jo Unwin's manuscript wishlist
Insight: That's What She Said
Insight: Bristol Short Story Prize
Time away: writing holidays
OUT NOW
Début author interview: Nicole Flattery
Poet laureate by Miranda Day
Six best novels by South Asian writers
Poetry news
Poetry review by Sandeep Parmar
Non-fiction: essay anthologies with Caroline Sanderson
M is for…
Fiction issues: historical thrillers by Anna Mazzola
Short story news
Short story review by Alice Slater
Short story heroes: Daisy Johnson
Books about writing
I confess
DON'T MISS
AND FINALLY
Susan Calman's bedtime reading
What we're up to
Submitting and subscribing to Mslexia
Editor
Debbie Taylor

The magazine for women who write
We firmly believe that you shouldn't leave your writing career to chance, and there's no faster way to level up your craft than with a subscription to our quarterly magazine.
Your passport to a supportive, dynamic tribe of creative women writers.
Opportunity to submit your work and get published to kick start your career.
Professional advice from literary agents and editors a click away.
Spark creativity and silence the practical and psychological obstacles.
Over 50 writing competitions in each issue.
Over 60 magazines and publishers on the lookout for fresh voices.
Subscribe