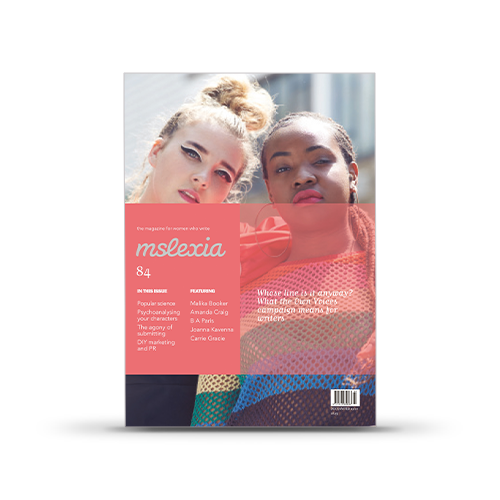 Mslexia Magazine - Issue 84
In this issue
The #ownvoices movement
The winners of the PBS/Mslexia Women's Poetry Competition
Psychoanalysis and character development
Featured Writers
Malika Booker
Amanda Craig
B A Paris
Issue 84 of Mslexia puts the spotlight on characters – from Debbie Taylor's Agenda piece on the #ownvoices movement to Arabel Charlaff's exploration of how psychoanalytic theory can help us write characters. It also features:
Malika Booker introduces the winners of the PBS/Mslexia Women's Poetry Competition
Amanda Craig talks to Katy Guest
Huma Qureshi on what to do while you submit work
Debbie Young on how to get your book noticed
Carrie Gracie's bedtime reading

The magazine for women who write
We firmly believe that you shouldn't leave your writing career to chance, and there's no faster way to level up your craft than with a subscription to our quarterly magazine.
Your passport to a supportive, dynamic tribe of creative women writers.
Opportunity to submit your work and get published to kick start your career.
Professional advice from literary agents and editors a click away.
Spark creativity and silence the practical and psychological obstacles.
Over 50 writing competitions in each issue.
Over 60 magazines and publishers on the lookout for fresh voices.
Subscribe