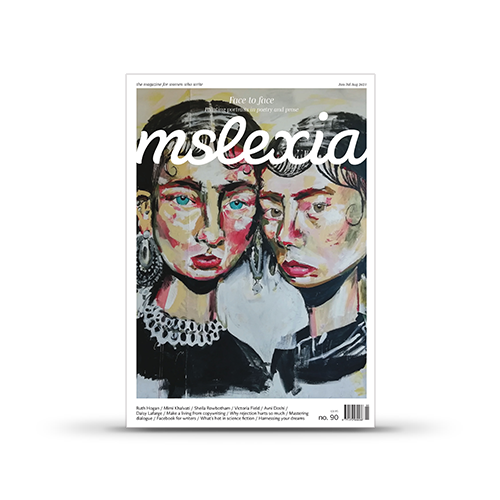 Mslexia Magazine - Issue 90
Full of creative inspiration, practical advice and original poetry, fiction and memoir
Why rejection hurts so much, how to make a living as a copywriter, what's hot in science fiction, painting portraits in prose and poetry.
In this issue
Why does rejection hurt so much? Psychologist and memoirist Vanessa Moore explains - and looks at how we can bounce back
The Midas touch SEO copywriter Kerry Campion spills the beans on how to make a living from copywriting
The knowledge Julie Vuong looks at the latest trends in science fiction
A seat at the table Elspeth Wilson discusses what will happen for disabled writers when live events resume
Interview Fiona Sturges talks to Ruth Hogan about eccentricity, emblematic objects and a sense of place in her writing
Dreamwork Hypnotherapist, poet and dream coach Leah Larwood explains how to use dreams and dream states in your writing
Playmaking In the third in her how-to series, acclaimed playwright and tutor Margaret Wilkinson spells out how to create a scene
Handcrafted poetry Self-publishing guru Debbie Young on publishing and selling your poetry
Portraits Mimi Khalvati introduces the chosen entries for our themed writing slot
PLUS: We introduce the winners of our 2020 Children's Novel and Memoir Competitions!
Digital copies are available from Exact Editions, who also manage our digital subscriptions. Clicking on the button below will take you to the Mslexia section of the Exact Editions website.

The magazine for women who write
We firmly believe that you shouldn't leave your writing career to chance, and there's no faster way to level up your craft than with a subscription to our quarterly magazine.
Your passport to a supportive, dynamic tribe of creative women writers.
Opportunity to submit your work and get published to kick start your career.
Professional advice from literary agents and editors a click away.
Spark creativity and silence the practical and psychological obstacles.
Over 50 writing competitions in each issue.
Over 60 magazines and publishers on the lookout for fresh voices.
Subscribe