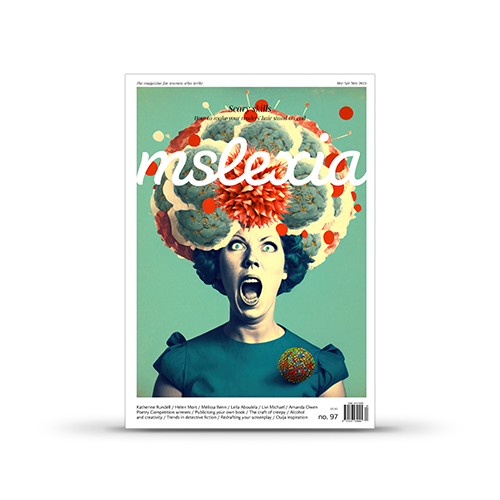 Mslexia Magazine - Issue 97
Full of creative inspiration, practical advice and original poetry, fiction and memoir
Exploring why we write when the monetary rewards are so low, how to write horror fiction, detective-led crime fiction, designing your book's cover as a self-publishing author.
In this issue
2022 Poetry Competition Judge Helen Mort introduces the winners and runners-up
Your money or your life Melissa Benn on why writers keep writing - even with no promise of monetary gain
The craft of creepy Lauren Owen provides a masterclass in writing horror
Bedside table Yorkshire Shepherdess Amanda Owen tells us what's on her bedside table
How to blow your own trumpet PR professionals Becky Hunter and Georgina Moore discuss the challenges of publicising their own debut novels
PLUS: Caroline Sanderson interviews award-winning author Katherine Rundell, Orna Ross explains the importance of cover design in self-publishing and Alys Key looks at whether alcohol is a friend or foe of creativity.
Digital copies are available from Exact Editions, who also manage our digital subscriptions. Clicking on the button below will take you to the Mslexia section of the Exact Editions website.

The magazine for women who write
We firmly believe that you shouldn't leave your writing career to chance, and there's no faster way to level up your craft than with a subscription to our quarterly magazine.
Your passport to a supportive, dynamic tribe of creative women writers.
Opportunity to submit your work and get published to kick start your career.
Professional advice from literary agents and editors a click away.
Spark creativity and silence the practical and psychological obstacles.
Over 50 writing competitions in each issue.
Over 60 magazines and publishers on the lookout for fresh voices.
Subscribe