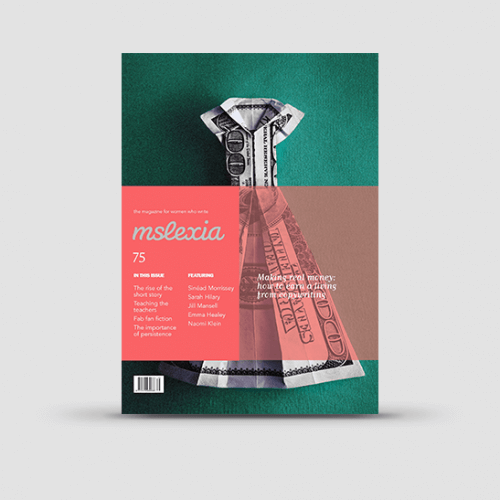 Mslexia Magazine - Issue 75
In this issue
How to earn a living from copywriting
Our 2017 Poetry Competition winners
Jill Mansell talks to Katy Guest
Featured Writers
Sinéad Morrissey
Emma Healey
Naomi Klein
Issue 75 features Tania Hershman on the resurgence of the short story, Diane Shipley discusses the weird and wonderful world of fan fiction and Sinéad Morrissey introduces our 2017 Poetry Competition winners. Plus:
Six of the best hybrid books
Out Now: Medical non-fiction with Caroline Sanderson
Craft: Alison Moore tackles blocks and breakthroughs
Naomi Klein's bedtime reading

The magazine for women who write
We firmly believe that you shouldn't leave your writing career to chance, and there's no faster way to level up your craft than with a subscription to our quarterly magazine.
Your passport to a supportive, dynamic tribe of creative women writers.
Opportunity to submit your work and get published to kick start your career.
Professional advice from literary agents and editors a click away.
Spark creativity and silence the practical and psychological obstacles.
Over 50 writing competitions in each issue.
Over 60 magazines and publishers on the lookout for fresh voices.
Subscribe