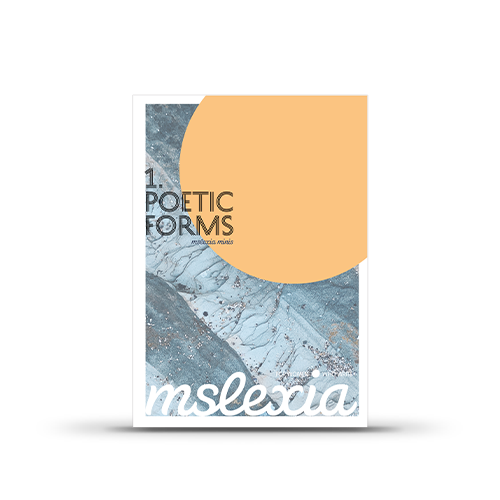 Poetic Forms
A how-to guide to the 15 main poetic forms
A how-to guide to the 15 main poetic forms, written by Linda France and illustrated with specially-commissioned examples from some of our best women poets, including Ruth Padel, Mimi Khalvati, and Wendy Cope. You can shell out for the 366-page Norton Anthology of Poetic Forms – or download our handy wee guide for £3. The choice is yours!
Printer-friendly: Our minis have been designed to be easy to both download and print out, and economical with your paper and toner.
Multi-platform: Mslexia minis are accessible across a wide range of devices, including computers, e-readers, smartphones, etc.
How to download
Once you've purchased our mini guide, you'll be taken to an on-screen confirmation page; to download, please scroll down until you see a section marked 'your downloads' and click the 'download' icon. To download at a later date, please create or login to your Mslexia account before, or during, the checkout process.