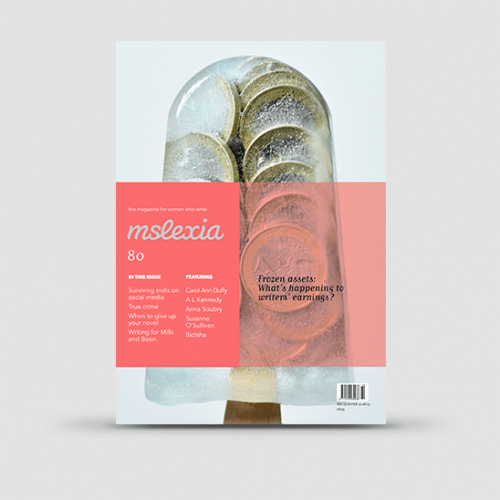 Mslexia Magazine - Issue 80
Agenda: what's happening to writers' earnings?
PLUS: Surviving troll on social media • True crime • When to give up your novel • Writing for Mills and Boon
Editor
Debbie Taylor
Plus
Carol Ann Duffy • A L Kennedy • Anna Soubry • Suzanne O'Sullivan • Bidisha
---
Agenda
Money matters: Grace Holliday weighs the evidence on author earnings
Forum
What you're saying about… literary agents, elitism and literary comp judging
What happened when you wrote your aspirational writer's biography
For the love of it: local history with Tania Rahman
Blogwatch
Noticeboard
Writing in the world: mental health with Caroline Butterwick
Showcase
Carol Ann Duffy introduces the winners of the PBS/Mslexia Women's Poetry Competition
Craft
Creativity news
Writing exercises
What works for Bidisha
Poetry challenge: Rondeau Redoublé, selected by Linda France
Ghost town: Margaret Wilkinson on the pros and cons of visiting the location she's writing about
Tara Bergin's Achilles' heel
Flash genre: Wendy Dove
First page surgery with Vicky Grut
On giving up: Kat Sommers asks if it's ever okay to admit defeat
Interview
Suzanne O'Sullivan talks to Debbie Taylor
Off the page
Script news
Play list with Dawn King
Rehearsals and warm-ups with Malika Booker
Listen up with Helen Mort
Bedtime story: 'Tinker Boy'
Moving words with Claire Trévien
Sister acts with Kirsten Luckins
Monologue: 'Preston and free' by A L Kennedy
Career
Publishing news
Crystal ball
#hutchrabbitgirls: Kim Moore on being silenced by social media trolls
Pitch surgery with Karolina Sutton
Pitch calendar
Self-help book test drive with Meg Clothier
Doors open
Open for submissions
Insight: pitch prospects
Three of a kind: women-only publishing
Insight: script submissions to UK Film Festival Script Competition
Open for entries: competitions and awards
Insight: literary agent Jenny Hewson's manuscript wishlist
Insight: The K Blundell Trust
Insight: Writers' & Artists' YearbookShort Story Competition
Time away: writing holidays
Out now
Début author interview: Kate Milner
Poet laureate by Vicky Allen
Six best translated novels by women
Poetry news
Poetry review by Mary Jean Chan
Non-fiction: true crime with Caroline Sanderson
L is for…
Fiction issues: on writing Mills & Boon by Julia Williams
Short story news
Short story review by Angela Readman
Short story heroes: Katherine Mansfield
Books about writing
I confess
Don't miss
And finally
Anna Soubry's bedtime reading
What we're up to
Submitting and subscribing to Mslexia

The magazine for women who write
We firmly believe that you shouldn't leave your writing career to chance, and there's no faster way to level up your craft than with a subscription to our quarterly magazine.
Your passport to a supportive, dynamic tribe of creative women writers.
Opportunity to submit your work and get published to kick start your career.
Professional advice from literary agents and editors a click away.
Spark creativity and silence the practical and psychological obstacles.
Over 50 writing competitions in each issue.
Over 60 magazines and publishers on the lookout for fresh voices.
Subscribe