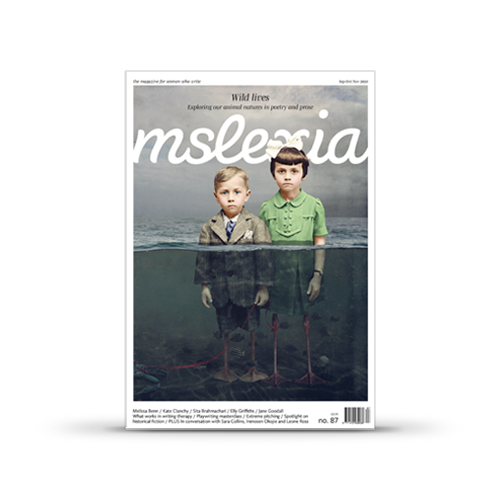 Mslexia Magazine - Issue 87
In this issue
Politics and creativity
Extreme pitching
Playwriting masterclass
What works in writing therapy
Featured writers
Melissa Benn
Isabel Galleymore
Sita Brahmachari
Leone Ross
Sara Collins and Irenosen Okojie
Jane Goodall
Editor
Debbie Taylor
Plus
Melissa Benn • Isabel Galleymore • Sita Brahmachari • Leone Ross, Sara Collins and Irenosen Okojie • Jane Goodall
Forum
Writing nest
Bear necessities
Submission stories
Blogability
What you're saying
#amwriting: Alexis Wolfe on writing while parenting a child with disabilities
Agenda
Leaning to the left: Melissa Benn on political preference and creativity
Craft
Warm-up
Seven plots
Poet Laureate
In conversation: Leone Ross, Sara Collins and Irenosen Okojie talk about writing and racism
Grow your own poem with Kate Clanchy
The story of your life with Catherine Cho
Poetry challenge, selected by Linda France
S is for…
Flash Challenge with Meg Pokrass
Interview
Sita Brahmachari talks to Katy Guest
Reading for writers
Breaking the mould with Yvonne Battle-Felton
Books about writing
The Knowledge: Historical fiction with Danuta Kean
What's new in poetry by Stephanie Sy-Quia
Indie in the news: V. Press
What's new in short stories by Alice Slater
Indie in the news: Myriad Editions
Showcase
Isabel Galleymore presents her selection of short stories and poems on the theme of 'wildlife'
Creativity & Wellbeing
Brain gym with Lucy Corkhill; Abiola Bello's Achilles' heel
Crafting a cure with Victoria Field
Writing prescriptions: What works best for different conditions, by Kate Thompson
It works for me: Elly Griffiths
Blockbuster
Lapidoptera, interview with therapist Clare Scott
Career
What's new on Twitter with Bethany Rutter
Pitching up: Rae Ritchie on pitching every day for a month
Proud to place with agent Nelle Andrew
My portfolio career
Self-publish your own non-fiction by Debbie Young
Noticeboard
Opportunities
Open for submissions
Insight: Caledonia Novel Awards
Insight: Grants and Awards: Authors Emergency Fund
Three of a kind: food magazines
Insight: Juliet Pickering's manuscript wishlist
Off the page
The world's wife
Eyeverse
Playmaking with Margaret Wilkinson
Creative infection: how haikus went viral, by Lucy English
Bedtime story
Breaking the Mould with Cecilia Knapp
Mslexia Moths with Molly Naylor
Events
Events and courses
Getting a Gig: Unlatched Podcast
And finally
Jane Goodall's bedtime reading
Submitting and subscribing to Mslexia
Specification
144 pages, offset-printed and perfect bound, full color on uncoated and coated paper. Printed in the UK. Dimensions: 8.5 x 11.3 inches.
Delivery
Shipping & handling (if applicable) is added at checkout. For more information please visit our Terms & Conditions.

The magazine for women who write
We firmly believe that you shouldn't leave your writing career to chance, and there's no faster way to level up your craft than with a subscription to our quarterly magazine.
Your passport to a supportive, dynamic tribe of creative women writers.
Opportunity to submit your work and get published to kick start your career.
Professional advice from literary agents and editors a click away.
Spark creativity and silence the practical and psychological obstacles.
Over 50 writing competitions in each issue.
Over 60 magazines and publishers on the lookout for fresh voices.
Subscribe