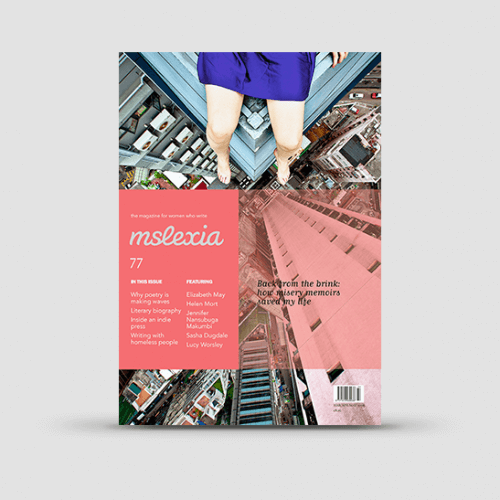 Mslexia Magazine - Issue 77
In this issue:
Why poetry is making waves
Literary biography
Inside an indie press
Featured writers:
Jennifer Nansubuga
Makumbi
Lucy Worsley
Elizabeth May
Issue 77 of Mslexia introduces the 2017 Women's Novel Competition winner, and our ever-popular 'Off the page' section, which signalled a broadening of our remit to embrace the wonderful work women create with texts not (primarily) intended for the page. Other features guaranteed to stimulate your creativity include:
The rising tide of poetry: Debbie Taylor charts 20 years of change
Misery lit saved my life: Lyn G Farrell on how accounts of abuse and trauma helped her survive
Showcase: Elizabeth May introduces stories and poems on the theme of 'bewitched'
Small pressure: Teika Bellamy on running an indie press
Lucy Worsley's bedtime reading

The magazine for women who write
We firmly believe that you shouldn't leave your writing career to chance, and there's no faster way to level up your craft than with a subscription to our quarterly magazine.
Your passport to a supportive, dynamic tribe of creative women writers.
Opportunity to submit your work and get published to kick start your career.
Professional advice from literary agents and editors a click away.
Spark creativity and silence the practical and psychological obstacles.
Over 50 writing competitions in each issue.
Over 60 magazines and publishers on the lookout for fresh voices.
Subscribe