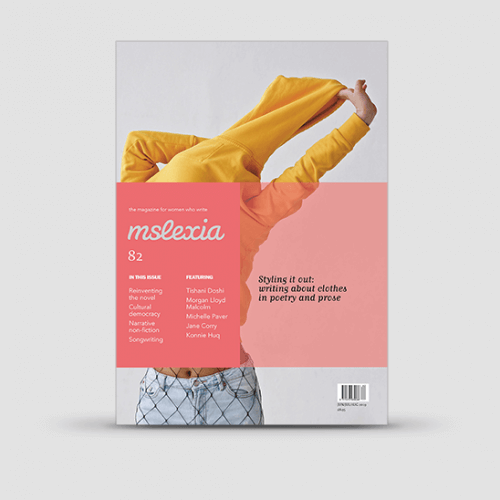 Mslexia Magazine - Issue 82
In this issue:
Reinventing the novel
Cultural democracy
Narrative non-fiction
Featured writers:
Tishani Doshi
Morgan Lloyd Malcolm
Konnie Huq
Issue 82 of Mslexia focuses on the 'extraordinary ordinary', and the stories you have to tell. It also débuts our Mslexia Moths life-writing slot. Other highlights include:
Our 2018 Novella Competition Winner
The new cultural revolution: Debbie Taylor on the move from inclusion to democracy in the arts
Turning to crime: Jane Corry explores the parallels between writing romance and crime
Showcase: Linda Grant introduces stories and poems on the theme of 'clothes'
Re-inventing the novel: Sophie Van Llewyn on the rise of genre-bending fiction

The magazine for women who write
We firmly believe that you shouldn't leave your writing career to chance, and there's no faster way to level up your craft than with a subscription to our quarterly magazine.
Your passport to a supportive, dynamic tribe of creative women writers.
Opportunity to submit your work and get published to kick start your career.
Professional advice from literary agents and editors a click away.
Spark creativity and silence the practical and psychological obstacles.
Over 50 writing competitions in each issue.
Over 60 magazines and publishers on the lookout for fresh voices.
Subscribe