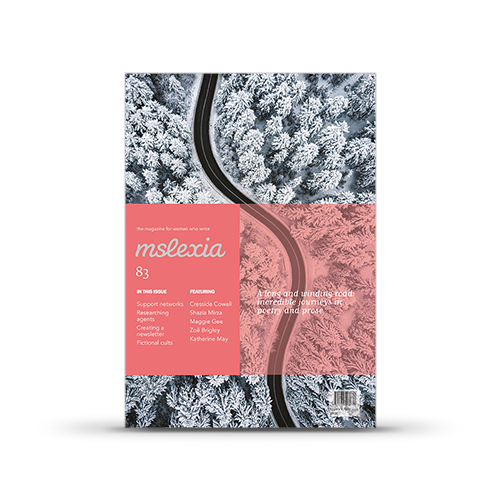 Mslexia Magazine - Issue 83
Agenda: Pass it on: Sara Grant on the epidemic of grassroots philanthropy in the writing community.
PLUS: Incredible journeys in poetry and prose • Support networks • Researching agents • Creating a newsletter • Fictional cults
Editor
Françoise Harvey
Plus
Cressida Cowell • Shazia Mirza • Maggie Gee • Zoë Brigley • Katherine May
---
AGENDA
Pass it on: Sara Grant on the epidemic of grassroots philanthropy in the writing community
FORUM
What you're saying about… critiques, compostable covers, sister stories, cultural democracy
Humblebrags
Your life sentences
For the love of it: bespoke Choose Your Own Adventures with Isabelle Mead
Alice Bell's view of reviewing
Noticeboard
SHOWCASE
Katherine May introduces stories and poems on the theme of 'journey'
CRAFT
Creativity news
Writing exercises
What works for Zoë Brigley
Poetry challenge: aubade, introduced by Linda France
Walk the line: Christina Sanders on why a short stroll can help the words flow
Maggie Gee's Achilles' heel
Flash challenge: Lotty Talbutt
First page surgery with Kavita Bhanot
INTERVIEW
Cressida Cowell talks to Fiona Noble
OFF THE PAGE
Script news
Play list with Nina Berry
Podding along: fiction podcasts with Alice Slater
Songbirds: rhyme and slant rhyme with Susie McComb
Mslexia Moths, selected by Molly Naylor
Bedtime story: 'The Lost Star' by Kim Donovan
CAREER
Publishing news
Crystal ball
Letter openers: Claire Wingfield on how to build your profile using newsletters
Pitch surgery with Nelle Andrew
Pitch calendar
Self-help book test drive with Lucy Corkhill
Looking the gift horse in the mouth: Katie Munnik on pros and cons of winning an agent
DOORS OPEN
Open for submissions
Insight: pitch prospects
Three of a kind: LGBTQ+ magazines
Insight: Green Stories
Open for entries: competitions and awards
Insight: agent Sophie Lambert's manuscript wishlist
Insight: Polari
Insight: CWA's Debut Dagger
Time away: writing holidays
OUT NOW
Début author interview: Melanie Blake
Poet laureate by Margaret Pritchard Houston
Six best radical reads for children
Poetry news
Poetry review by Jade Cuttle
Non-fiction: books by musicians with Caroline Sanderson
Fiction issues: cults by Alex Marwood
Short story news
Short story review by Alice Slater
Short story heroes: Miranda July
Books about writing
O is for…
DON'T MISS
AND FINALLY
Shazia Mirza's bedtime reading
What we're up to
Submitting and subscribing to Mslexia

The magazine for women who write
We firmly believe that you shouldn't leave your writing career to chance, and there's no faster way to level up your craft than with a subscription to our quarterly magazine.
Your passport to a supportive, dynamic tribe of creative women writers.
Opportunity to submit your work and get published to kick start your career.
Professional advice from literary agents and editors a click away.
Spark creativity and silence the practical and psychological obstacles.
Over 50 writing competitions in each issue.
Over 60 magazines and publishers on the lookout for fresh voices.
Subscribe