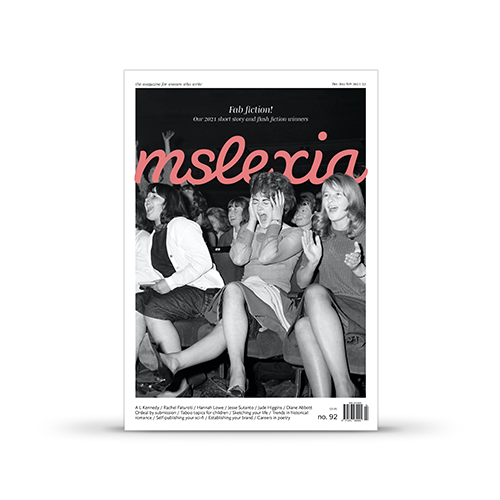 Mslexia Magazine - Issue 92
Full of creative inspiration, practical advice and original poetry, fiction and memoir
Submitting your writing, how to create your own own comic diary, what's hot in historical romance, how to edit a poem, making a living as a poet.
In this issue
Without fear or favour Debbie Taylor looks at what happens when writers submit their writing to agents, publishers and competitions – and at what can be done to make the process less harrowing
Remove the kid gloves Children's novelist Rachel Faturoti explains why writers need to address challenging themes in children's fiction
The knowledge Julie Vuong talks to the agents and editors involved in historical romance and discovers that readers want fewer damsels and distress and more smart-thinking heroines
My comic life When Matilda Tristram got cancer she wrote a comic diary about it. Here she explains how you don't need to be good at drawing to star in your own comic strip
Interview Debbie Taylor talks to bestselling crime author Joy Ellis
Your authorial brand Maxine Davies urges writers to talk themselves up and reconsider how they present themselves to the world
When I grow up... Katy Evans-Bush reports back on her quest to discover whether it might actually be possible to make a living as a poet these days
Self-publish a bestseller Our resident self-publishing guru Debbie Young talks to the stars of indie science fiction and fantasy about identifying and marketing your particular subgenre
PLUS: Diane Abbott tells us what's on her bedside table, Jesse Sutanto talks about silencing your inner critic, and we introduce the winners of our Short Story and Flash Fiction competitions!
Digital copies are available from Exact Editions, who also manage our digital subscriptions. Clicking on the button below will take you to the Mslexia section of the Exact Editions website.

The magazine for women who write
We firmly believe that you shouldn't leave your writing career to chance, and there's no faster way to level up your craft than with a subscription to our quarterly magazine.
Your passport to a supportive, dynamic tribe of creative women writers.
Opportunity to submit your work and get published to kick start your career.
Professional advice from literary agents and editors a click away.
Spark creativity and silence the practical and psychological obstacles.
Over 50 writing competitions in each issue.
Over 60 magazines and publishers on the lookout for fresh voices.
Subscribe