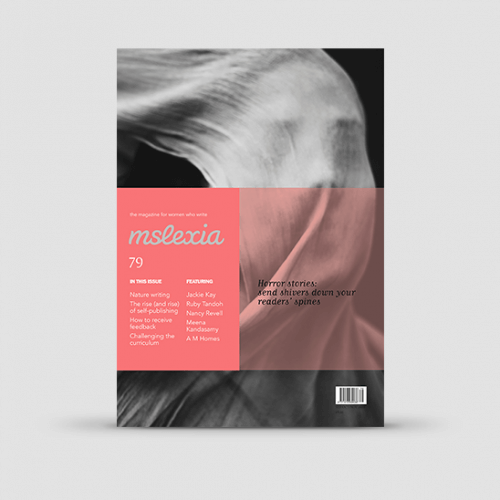 Mslexia Magazine - Issue 79
In this issue
The rise of self-publishing
Cooking: Rosie Garland selects the best themed submission
Building a portfolio career with Katy Guest
Featured writers
Jackie Kay
Ruby Tandoh
Nancy Revell
Issue 79 of Mslexia explores all sorts of genres, from nature writing to horror. Novelist and poet Rosie Garland selects her favourites from your submissions on the theme of 'cooking', while there's an insight into the Mogford Food & Drink Short Story Prize. Elsewhere:
Orna Ross on how independent authors are on the rise
How to give and receive feedback with Helen Corner-Bryant
Debbie Taylor interviews Meena Kandasamy
Jackie Kay's monologue, 'Boke'
Imogen Usherwood asks why so few women writers are included in the school curriculum

The magazine for women who write
We firmly believe that you shouldn't leave your writing career to chance, and there's no faster way to level up your craft than with a subscription to our quarterly magazine.
Your passport to a supportive, dynamic tribe of creative women writers.
Opportunity to submit your work and get published to kick start your career.
Professional advice from literary agents and editors a click away.
Spark creativity and silence the practical and psychological obstacles.
Over 50 writing competitions in each issue.
Over 60 magazines and publishers on the lookout for fresh voices.
Subscribe