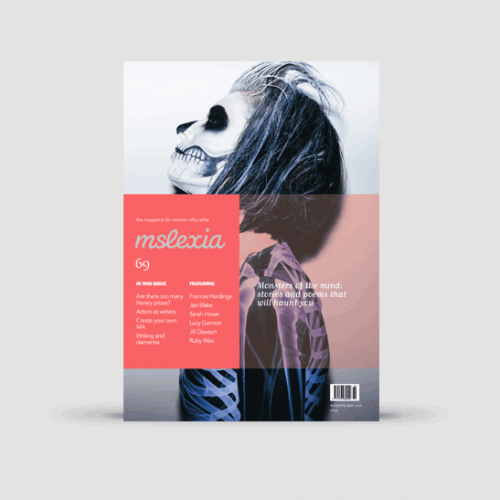 Mslexia Magazine - Issue 69
In this Issue
Are there too many literary poems?
Actors as writers
Create your own MA
Writing and dementia
Features writers
Francis Hardridge
Jan Blake
Sarah Howe
Lucy Gannon
Jill Dawson
Ruby Wax
Issue 69 of Mslexia features Debbie Taylor asking whether winning is losing it's value in her Agenda: Are there too many literary prizes? Juliete E McKenna introduces poems and stories on the theme 'monster'. Plus:
Interview: Award winning storyteller Jan Blake explains to Anna Sayburn why she never uses a script.
Career: Performance tutor Sarah Myers urges us to take performance seriously in her feature 'Stand tall and stop apologising'
Out Now: Linda Anderson analyses the work of noted short story author Zadie Smith

The magazine for women who write
We firmly believe that you shouldn't leave your writing career to chance, and there's no faster way to level up your craft than with a subscription to our quarterly magazine.
Your passport to a supportive, dynamic tribe of creative women writers.
Opportunity to submit your work and get published to kick start your career.
Professional advice from literary agents and editors a click away.
Spark creativity and silence the practical and psychological obstacles.
Over 50 writing competitions in each issue.
Over 60 magazines and publishers on the lookout for fresh voices.
Subscribe