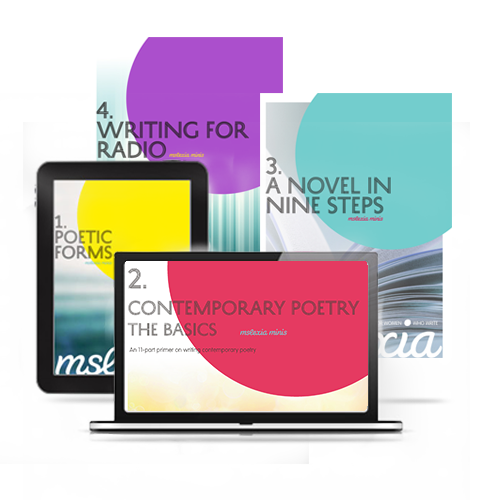 Mslexia Minis: four-book bundle
Select any four titles from our range of Mslexia Mini eBooks, packed full of advice, prompts, exercises and inspiration. Compact, concise and beautifully designed to be easy on the eye on any screen – and easy to read when printed out from your computer. Perfect for starting your adventures in a range of different genres.
We know many writers like to keep pushing themselves by experimenting with writing across different genres and forms. If you're interested in expanding your skills, or want some prompts and inspiration to help you complete a project you've already started, you should take advantage of our Mslexia Minis e-book offer!
Get all four of the available Mslexia Mini e-books in PDF format for just £10 – saving £4! The e-books include:
1- Poetic forms
2- Contemporary Poetry: the basics
3- A Novel in Nine Steps
4- Writing for Radio
Each ebook is beautifully designed to be easy on the eye on screen and easy to read when printed, and is packed full of advice, prompts, exercises and inspiration.
You are purchasing printer-friendly PDF versions of the first four Mslexia Minis. If you would prefer this bundle in either .epub or .mobi format, please contact us. For further information, please see our FAQs.
Please note: if you are ordering these PDFs alongside a magazine subscription, you will not receive your downloads until the order has been processed in-house, during office hours. If this is a problem please order the subscription separately.
© Please remember that this is copyrighted material. Our mini guides are sold for your personal use only. If you want to share them with other writers, please buy more copies or ask them to visit our website to buy their own copies.
Printer-friendly: Our minis have been designed to be easy to both download and print out, and economical with your paper and toner.
Multi-platform: Mslexia minis are accessible across a wide range of devices, including computers, e-readers, smartphones etc. If you require .epub or .mobi format, rather than PDFs, please contact us either by email at postbag@mslexia.co.uk or by phone on 0191 204 8860

The magazine for women who write
We firmly believe that you shouldn't leave your writing career to chance, and there's no faster way to level up your craft than with a subscription to our quarterly magazine.
Your passport to a supportive, dynamic tribe of creative women writers.
Opportunity to submit your work and get published to kick start your career.
Professional advice from literary agents and editors a click away.
Spark creativity and silence the practical and psychological obstacles.
Over 50 writing competitions in each issue.
Over 60 magazines and publishers on the lookout for fresh voices.
Access to e-newsletter, Little Ms.
Subscribe