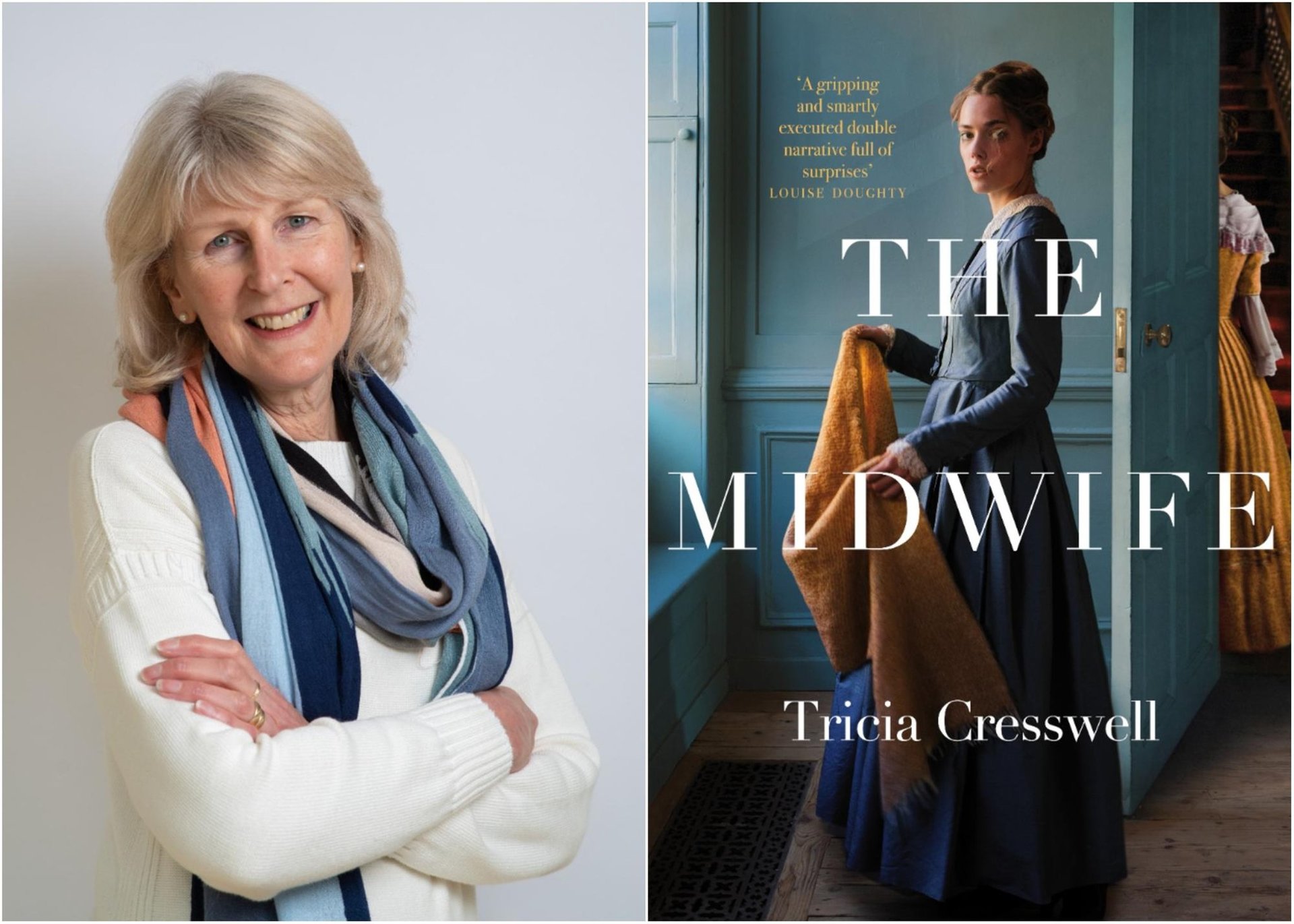 From the cover:
'1830. After a violent storm, a woman is found alone, naked, near death on the Northumberland moors. She has no memory of who she is or how she got there. But she can remember how to help a woman in labour, how to expertly dress a wound and can speak fluent French. With the odds against her - a penniless single woman - she starts to build her life from scratch, using her skills to help other woman around her. She finds a happy place in the world. Until tragedy strikes, and she must run for her life.
'In London, Dr Borthwick lives a solitary life working as an accoucheur together with his midwife, Mrs Bates, dealing with mothers and babies in both the elegant homes of high society, and alongside a young widow, Eleanor Johnson, volunteering in the slums of the Devil's Acre. His professional reputation is spotless, and he keeps his private life just as clean, isolating himself from any new acquaintances. He is harbouring a dark secret from his past, one that threatens to spill over everything.'
You can read an extract from the winning manuscript, originally entitled A Stranger Place, here, along with Tricia's explanation of how she came to write it. This was the text that impressed our panel of judges for that year, who were bestselling author Louise Doughty, BBC radio producer Nicola Holloway, and literary agent Charlotte Robertson. Tricia had approached several agents, with no luck, prior to the competition – but her fortunes changed when she won, and discovered agent representation was part of the prize.
Here's Charlotte's and Tricia's accounts of what happened next…
The agent's story
'As soon as I read the manuscript, I knew I wanted it to win. The settings ¬– wild Northumberland moors and seedy Victorian London – were brilliantly realised and the characters were utterly believable. That was something all the judged remarked on: how well-drawn all the characters were: goodies and baddies, well-heeled and poverty-stricken. And the story had real pace and mystery. I honestly didn't know what was going to happen next – in a good way!
'I love Mslexia's judging process, the way you have absolutely no idea who has written the book. But there was something about the depth of the author's technical understanding of the medical issues, and the added layers of political nuance, that made me think she might be a slightly older woman, with perhaps a professional background in health.
'When it came to preparing the manuscript for submission, Tricia and I spent a lot of time talking about what the point of the book was and why she'd written it. It was a good way of getting to know Tricia, and identifying how to sharpen the focus of the novel. Although the context was women's health – many women died in childbirth in those days – we agreed that, at it's heart was an exploration of how difficult it was for women of all classes, rich and poor, to advance in society at that time.
'I love the process of editing – though its not really my job! It's such a privilege to help an author bring out what's exciting and unusual in a book.
'Because I could see it had crossover appeal – a historical with reading group potential – I sent it out to about 20 different editors. In retrospect it was a terrible time to be pitching, because it was in the middle of the first lockdown. People were delaying publication and stockpiling manuscripts, they were working at home and overwhelmed by home-schooling, or on maternity leave, or using the opportunity to change jobs. So I got five bounce backs straight away from editors who'd moved on. And about five really regretful passes because "On no! I've just taken on a historical, but I like this much more!".
'In the end Caroline Hogg at Pan Macmillan read it in "two or three great big gulps" after a long period of not being excited by anything she was seeing – and persuaded me to take it off the table.'
The writer's story
'Before I started my creative writing MA, all of my writing had been academic, or factual reports for my health service job, so I had quite a lot of learning to do. My fiction tutor was always telling me to, "tighten up, tighten up, take the words out!".
'I'd submitted the novel to about ten agents before the competition, and been rejected by them all. So that was another big learning curve to navigate. The rejections were encouraging and polite, with some thoughtful comments, but they were still rejections! I'm used to having academic papers turned down, but it's different when it's your baby – more personal somehow.
'If I have one piece of advice to pass on to other writers in my position, it's to find a writing buddy or buddies – and a mentor. And one of the best way of doing that, if you can possibly afford it, is to go on a good creative writing course of some kind. Writing a novel takes a long time, and it can take even longer to find a publisher – so it's easy to get discouraged.
'Charlotte was the perfect agent for me, because she could see immediately where the book needed work – which turned out to be exactly the bits I was most unsure about myself. There was a paranormal strand that she thought was distracting from the other issues in the book, so we got rid of that. And the ending had confused the novel judges, so we made that a bit more explicit.
'Charlotte is really good a keeping in touch and I'm very quick at rewriting when I understand what I'm being asked to do, so it all happened really fast. I signed up with Charlotte in June and by September I'd signed the contract with Caroline Hogg at Pan MacMillan.
I didn't meet either Caroline or Charlotte in the flesh for the whole of this process – everything's been done by Zoom. We all had terrible hair because we hadn't seen a hairdresser for months and I was completely grey because all my colour had grown out.
'For the next book, I'm thinking about something set in the same period but with a focus on women's education instead of health. But I'm also working on a plot about the climate emergency, which is something I feel really passionate about. But to do it justice there's bound to be a lot of pain for the characters, so it's not a recipe for an easy read. On the other hand, cheerful subject matter is not really my sort of thing...'
The Midwife by Tricia Cresswell is published in hardback by Mantle (Pan Macmillan) on 17 February, and in paperback by Pan on 2 March 2023.
Charlotte Robertson and Tricia Cresswell